Phoenix East Aviation Flight School
Phoenix East Aviation, a nationally accredited and internationally-recognized flight academy, located in sunny Daytona Beach, Florida, offers FAA approved courses for international and U.S. students planning careers as professional airline pilots and flight dispatchers.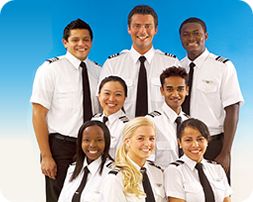 Fully approved pilot training programs prepare you for fixed-wing Private, Commercial, and Airline Transport Pilot Certificates and train you to be a Certified Flight Instructor. Jet type-rating certifications and airline dispatcher courses are also offered at our Aviation School. Free tutoring and use of computers and video equipment are offered for all Phoenix East Aviation students.
Daytona Beach, Florida, known worldwide for its excellent climate, is the perfect choice for pilot training, with its 360+ days a year of good flying weather. This allows you to fly more often, finish your program faster – then become employed as a professional pilot more quickly! At the end of each day, you will return to your beautiful apartment, and for relaxation, you can enjoy Daytona Beach's beautiful beaches and exciting Daytona Speedway NASCAR car and motorcycle races.
Phoenix East Aviation is proud of its fleet of new and late model Cessna 172-SP NAV II and NAV III (G1000) single engine airplanes and Diamond DA-42 Twin Star and Piper Seneca multi-engine aircraft, fully certified for all ratings. Simulators include the state-of-the-art Frasca 141 Mentor / G1000, which complement and speed your flight training. And most important, the Phoenix East Aviation team of U.S. and international instructor pilots are all highly qualified and U.S. trained. These men and women, from all over the world, are skilled and caring teachers, committed to teach YOU to fly.
Training is available at our aviation school for advanced systems including Electronic Flight Information Systems and Flight Management Systems, as well as Crew Resource Management/Human Factors, Airline Interview Preparation and more.
A Flight academy that was founded by, and is today still run by former airline pilots, Phoenix East Aviation reflects 42 years of preparing pilot candidates for airlines worldwide. Having the distinction of being one of only a few independent, nationally accredited pilot training academies in the U.S.A.  you can be assured of high quality training and stability of operation. As Phoenix East graduates know, pilot training is our only business: we are focused on and committed to YOUR success.