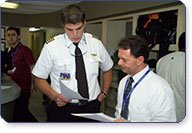 If you have a passion for aviation, consider a career as an Airline Dispatcher, one of the most exciting and best paying jobs in the airline industry. Commercial aviation is expanding worldwide, and now is an excellent time for you to begin this exciting career. Positions are available with airlines throughout the world.
Phoenix East provides all your training. We offer a FAA-approved six-week Airline Dispatcher Training Course at our flight training academy in Daytona Beach, Florida. You will learn in a classroom setting, at our modern airport facility, from experienced instructors.
After graduation from Phoenix East and certification, you will be ready to work in an airline's Operations Control Center, making decisions and sharing responsibility with an airline captain regarding daily flight operations; you will be the "captain on the ground." An Airline Dispatcher plans flights (based on weather, aircraft maintenance, airport navigational facilities, Notices to Airmen, alternate airports, etc.) The Dispatcher also may cancel or delay flights to ensure the safety of each flight. You typically work in a central office that controls all the flights for your airline. The Dispatcher is, indeed, a very important person in the operation of an airline.
For such an excellent career, which pays up to USD $80,000 a year with experience, you must, of course, be qualified, and Phoenix East provides all the training you need. Airlines in the U.S. and in countries throughout the world hire FAA-certified dispatchers. If you are an international student, Phoenix East will assist you in obtaining an M-1 visa to enable you to study in the U.S. We will train you for your FAA license and help you prepare a resume to obtain a job with an airline of your choice. Graduates of the Airline Dispatcher Course must be at least 21 years of age to sit for the FAA Aircraft Dispatcher Knowledge Test and the Practical Exam *
During your training you will study many of the same things pilots do.
You will learn:
Basic and Advanced Meteorology
Communications
Practical Dispatching
Instrument Approach Procedures
Federal Aviation regulations
Aircraft Systems and Performance
Instrument Approach Plates & Enroute Charts
Global Navigation Systems
Navigation
Graphic and Non-graphic Weather
Air Traffic Control
Flight Planning
Emergency situations
*To be issued the Aircraft Dispatcher Certificate, you must be at least 23 years old. However, you may work in an airline's Operations Control Center prior to the age of 23; an Airline Dispatcher Course graduate who is under age 23 and has passed the tests may work as an Assistant Dispatcher or a Flight Follower. If you are under 23 and have passed the tests, you will be issued an FAA Letter of Aeronautical Competency, stating that all requirements have been met, and that a Certificate will be issued upon reaching age 23.
Special Accelerated Course for Pilots and Dispatchers
If you hold a Commercial Instrument or Certified Flight Instructor Certificate, you are eligible for a three-week accelerated course at a cost of only $3,449. Assistant Flight Dispatchers with a minimum of three-years experience are also eligible for the $3,449 accelerated course.
Start Now – Available Classes
Places in upcoming classes are still available. Contact us now and talk to an Admissions Officer to reserve your place in the next class. Start your exciting new career as an Airline Dispatcher today!
Living
Phoenix East will arrange for an apartment for you for six weeks, if you wish. You may wish to share an apartment with another student; we can assist you with that also. We have many apartments available in Daytona Beach, within two miles of Phoenix East Aviation or on the beach, and for all budget levels.
Cost
The cost of the program, including books, tutoring and unlimited use of school computers is USD $5,449. A non-refundable enrollment fee of $50 is required with your application to reserve a place for you in you in the class of your choice.
For international students, a non-refundable enrollment fee of $350 is required with your application.
Checks, money orders, Visa, MasterCard, American Express and Discover Card are accepted. International students may also wire-transfer tuition fees.
To Enroll:
Call Phoenix East Aviation at 1.386.258.0703 worldwide or Email Us. A member of our staff of experienced Admissions Officers will answer any questions and send you an enrollment agreement. You will find you can be quickly on your way to a new career in commercial aviation.