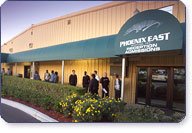 To select the best training program for you:
Contact a Phoenix East Aviation Admissions Officer by email:admissions@pea.com or call +1-386-258-0703 to speak to an Admissions Officer.
To Begin the Application Process
You may contact Phoenix East Aviation in any of the following four ways:
Telephone: +1-386-258-0703
FAX: +1-386-254-6842
Internet: www.pea.com (Application for Admission)
Mail or Courier: Phoenix East Aviation, 561 Pearl Harbor Drive, Daytona Beach, FL 32114 USA.
To apply, all international students must
Complete the Application for Admission as the first step in the admissions process. This Application for Admissions is sent through a Secure Server for your protection. Privacy Policy.
Send copy of passport. Also send copy of pilot's license (if applicable).
Send copy of current Federal Aviation Administration (FAA) medical and last two pages of log book (if applicable).
Send proof of coverage for health / accident insurance, indicating coverage for training while in the U.S. (This required insurance may also be purchased in the U.S., if preferred).
Send (wire transfer or via credit card) international registration and admissions fee of USD$350. (Please note: Additional fees are also required by the U.S. government for background check prior to issuance of a visa and visa fees, which will be payable to the U.S. government.)
Send letter from your bank showing proof of funds for pilot training and living expenses during pilot training. This must be on bank letter head and signed by a bank official.
Required Visa:
You must have a U.S. F-1 or M-1 visa for flight training in the U.S.
Phoenix East Aviation is approved for the F-1 I-20 form for flight training students in F-1 approved programs.
Phoenix East Aviation is also approved for the M-1 I-20 form for students who enroll in M-1 approved courses.
Note: If you hold a pilot's license or ratings not issued by the FAA and which are not in English, it is strongly recommended to have the aviation authority of the country that issued your license to provide you an official translation into English, before your arrival at Phoenix East. Advise your Phoenix East Admissions Officer at time of application if you have a non-FAA-issued license. We will then email or fax you the FAA forms that are required to convert your license to an FAA license before your arrival.
Arrival at Phoenix East Aviation:
International students should plan to arrive two weeks before the scheduled ground school begins in order to have sufficient time to finalize your apartment, open a bank account, etc.