Housing Assistance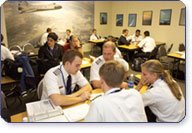 Phoenix East Aviation has housing available to fit everyone's taste and budget. Short-term and long-term accommodations are available. We work closely with nearby apartment complexes located within a mile of school. Whether you want an apartment, house or hotel, accommodations are available for the budget-minded student as well as those who wish luxury beachfront living.
Our staff will assist you with finding your own place or sharing an apartment with other Phoenix East students to keep costs to a minimum. We help find the right place for you! To learn more about housing options that best meet your needs, contact Phoenix East today.
Visa Information
M-1 Student Visa
Phoenix East Aviation is authorized by the US Department of Homeland Security for the M-1 Student Visa Form (I-20) for the student who wishes to obtain a Private License, Commercial License, Airline Transport Pilot's License, Instrument Rating, Multi-Engine Rating or Certified Flight Instructor, and Certified Flight Instructor Instrument or Multi-Engine Instructor ratings.
F-1 Student Visa
Phoenix East Aviation is also authorized by the US Department of Homeland Security to offer the F-1 Visa form (I-20). In this program, a student completes the Professional Pilot Training Program, which begins with zero flight experience and progresses to a Commercial Pilot License with Instrument and Multi-engine Ratings; training then continues to Certified Flight Instructor and Certified Flight Instructor Instrument Ratings. Upon successful completion of the program, students may interview for a position as a flight instructor, and upon acceptance (and approval for the work authorization through the Department of Homeland Security), may become paid employees of PEA, gaining practical flight experience toward the ATP license.
Phoenix East Aviation will send you the required documents and instructions, so you can apply for the Visa at the American Embassy. Contact Phoenix East Aviation today regarding obtaining a US student visa.
Other No-Cost Student Services
Free tutoring
Guidance counseling
Use of computers throughout your training