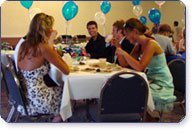 Phoenix East Aviation is located in Daytona Beach, on Florida's Central East Coast Region. Its 23 miles of white sand beaches, mild climate throughout the year, warm hospitality and modest housing costs have attracted visitors and residents to this area for years. Because of its convenient location, Daytona Beach is also the perfect spot for easy access to Florida's other attractions: Walt Disney World, historic St. Augustine, Spaceport USA, Sea World and Universal Studios are all within a one hour drive of Daytona Beach. Things to Do.
The beach itself is long and beautiful — one of the most magnificent in the world, some say. Driving on the hard-packed sand is even allowed on miles of beach during daylight hours!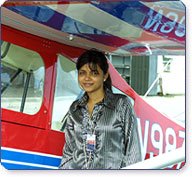 The beach is open and accessible year round. The average annual temperature is 70.8 degrees Fahrenheit. Winters are mild and short, while summers are warm, with a constant ocean breeze. On average, student pilots are able to fly over 360 days a year.
Daytona Beach is also famous for automobile racing. One of the nation's finest racing facilities, the Daytona International Speedway, is just across the street from Phoenix East Aviation; it hosts the world-famous Daytona 500 each February. Major motorcycle races are staged in both March and October at the Speedway, and stock car racing returns in July. In fact, sports fans can almost always find something of interest in the area. The Ocean Center, the area's entertainment and convention complex, has played host to professional and collegiate basketball, karate championships, boxing and wrestling.
There is lodging to fit every taste and budget in the Daytona Beach area, many within walking distance of Phoenix East Aviation. The 436 area hotels and motels offer more than 16,000 rooms, suites and apartments, many directly on the ocean.
To view some of the best attractions in the Daytona Beach area, please visit these local sites: